Today, there are many choices if you want to run surveys. You can perform surveys on your website, send people emails and text messages, or use dedicated devices and apps. Depending on where and who you want to ask your questions, the best solution for you depends on many factors. In this post we'll give you the best tips for engaging with your responders using a survey app.
Why should I be using a survey app in the first place?
Well, a native app holds some advantages over a basic online survey. First and foremost, it's not dependent on having stabile network connection. Should the connection fail, then the survey answers will be stored offline in the app until the connection is re-established. Apart from giving the surveyor more data security, this also adds to the positive experience of the survey responder.
What's important when using a survey app?
There are several things you need to consider. The below points largely deal with the practical aspects of the setting up a solution, and what to be aware of, if you want a hassle-free implementation.
Location, location, location…
One of the most important factors is the location of your survey. If you are placing a high-end product like an iPad somewhere in a physical environment, location is an important factor. This is because it very much affects the security measures you need to consider for the solution.
Where you want to place your survey station depends on what you want to examine and what experience or emotion you want to capture. If you are considering surveying a retail store, you should read this blog on survey placement, which explains in depth how to get good results.
But for now, let's assume that you want to survey the customer experience near the exit of a shopping mall. From a survey perspective, the first thing you need to consider is if the survey station is secure. The less secure the location, the more you should be attentive to the security aspects of your installation.
Protecting your survey station
If you're not planning to use facilitating personnel when you conduct your surveys, then security becomes even more important. The security aspects of placing an iPad in a semi-public location pose two security concerns. Namely how to secure your hardware and how to secure your software. We'll address them both below.
Securing your survey app
Firstly, you need to make sure that responders or outsiders are unable to exit the survey app. We have seen examples (obviously not with our app!) where outsiders have been successful in exiting a survey app, and playing disturbing videos to the outrage of casual by-passers. This reflects poorly on the company who is conducting the surveys and the consequences could be severe.
However, there are solutions available. One option is to use Apple's volume purchasing program (VPP) and distribute the survey app through Mobile Device Management (MDM) software. The MDM software can ensure restricted access to the iPad and disable certain hardware buttons, and thus facilitate the deployment and administration of a survey app. Leading vendors within this space include Miradore, AirWatch and Xenmobile by Citrix.
If you are using a survey app in a few locations and don't have access to MDM software, another option is use Apple's own guided access to restrict access. Although, guided access basically provides the same core functionality for free and works just fine, we only recommend using this approach if you have five locations or less, as it involves the administration of Apple ids and lacks a centralized deployment process and overall monitoring.
Securing your survey station
Even though you have made sure that no one can start other apps on the device, you also need to consider how to secure the iPad and the iPad stand that you are using. When you are considering iPad stands, there are several options out there. Here, at tabsurvey we have had the opportunity to work with several products. Two stand out.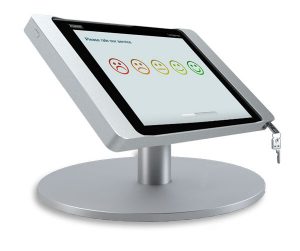 If your need is an elegant solution, that should endure an highly dynamic environment, and where there's a risk of theft or vandalism, then our recommendation is the lockable iPad case or stand from BOX IT Design. With thousands of installations worldwide, BOX IT Design's products have by far proved themselves to be durable and well-designed high-end options.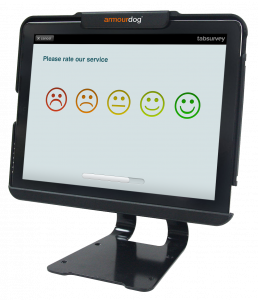 However, should your needs for an iPad stand be different, because your survey is internal or placed in a supervised area, then a great alternative are the stands from Armour Dog. Armour Dog delivers a cost-effective alternative, which is mainly available as table stands.
With both products you can mount the stands onto a surface like a floor, a wall or a table. You can also acquire a steel wire with a padlock, if you want to secure the stand further.
Utilities and infrastructure
Once you have made the appropriate decisions regarding security, there are still a few other things to pay attention to. One is something as basic as ensuring that you place the iPad and stand near a power outlet. It may seem trivial, but if your device runs out of power, then it won't be collecting answers for you!
Another issue is the Internet connection. Even though the app can run without an Internet connection, it will not transfer data to your online reports unless there's a live connection. A time-limited guest wi-fi with login enabled via browser won't do the trick, as they it will kick off it's users after 24 or 48 hours. If you must use Wi-Fi, make sure that it's a reliable internal (preferable hidden) network, or a cellular-based Internet connection. In either case it's important that the connection is stable and strong.
If you have considered all of the above points, and made the appropriate choices then you are definitely on track to using a survey app successfully.
Conclusion
This blog post primarily dealt with the practical issues, which you will face as a project manager, store manager or implementation partner when using a survey app to run surveys. The things to consider include:
Finding the right location for your survey station
Taking the appropriate measures for securing your hardware and software; and lastly
Ensuring that the necessary infrastructure requirements are present
Be sure to read our next blog, which will give pointers to a successful implementation of a customer experience management project from an organisational involvement point of view. Stay tuned!