The best career advice is simple and is valid across businesses, countries and various career steps: Stay on good terms friends with the canteen, the IT-department, and the "ones down on the first floor". It is these guys you call when it is dripping down from the ceiling, when your computer is acting up (- and yes, you have tried to restart). These are the ones who dish up delicious lunches and do the dishes. In other words, these guys are the ones getting things done, so that you can concentrate on what you are good at: the core business. Therefore, it goes without saying that you should survey the canteen satisfaction.
The core business is supported by good Facility Management
It is a simple, yet not an insignificant advice. And the advice does not only apply for the individual employee in an organisation, in fact, everything runs more smoothly, if there is good cooperation between those who work on the first floor and the rest of the organisation. You will quickly feel, it if it isn't. The fundamentals must be in order, before you can run the business.
What is meant by laying down the foundation for a well-functioning organisation is broadly covered by what we call Facility Management, or simply FM. FM covers those parts of the organisation that include canteen and catering-services, the reception, cleaning services, logistics, mail-handling, and maintenance of buildings and green areas.
High quality Facility Management in general, and a high satisfaction rate with the food services in the canteen in particular, offers many advantages for an organisation. They do not only free up resources, so that the focus of the organisation can be fastened on the primary tasks that the organisation was set out to do or deliver. The assets of the business are maintained, prolonging the lifespan of these, and avoiding costly ad-hoc, makeshift repairs. Someone has an eye daily on health and safety issues as well as some kinds of compliance. This would ideally lead to reduced sick leave on both short and longer terms. Altogether, this will make the organisation more cost-efficient with happier and healthier employees – resulting in better business results.
And this is even before we have started talking about the topic which, at least once a day, is one the top of everybody's mind: lunch.
Success starts with a great canteen
A high level of satisfaction with the canteen services provide a sense of unity among the employees, it is something which cultivates pride on the workplace. The canteen, whether it is good or poor, is something that is talked about outside the workplace as well – and it is an important driver for attracting or keeping the right employees. Most likely, too, having well-nourished employees, getting proper food, considerably increases their productivity. For one, they are spending fewer days on sick leave. But neglected employees spend a disproportionate amount of energy – on either complaining about the food served in the canteen, or even finding alternatives for it. Add to that, something as simple as the fact, that employees, who are low on sugar produces measurably less, than employees, whose blood sugar is more stable.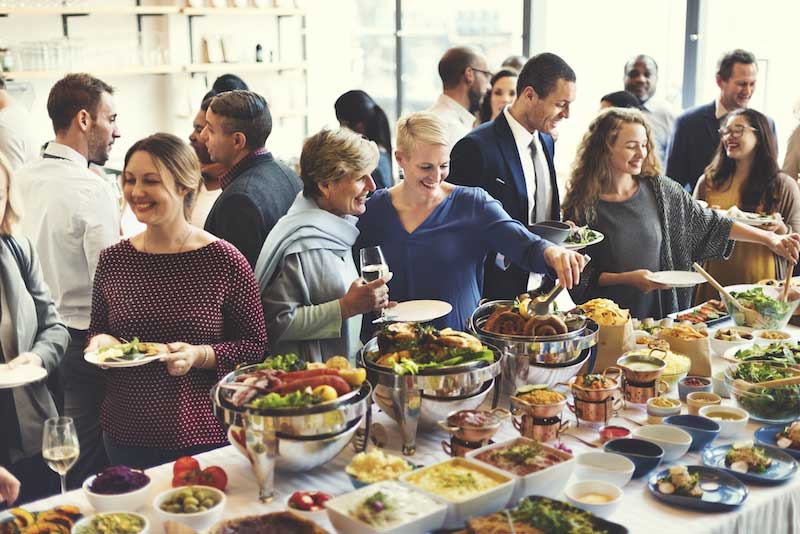 It is often here, that colleagues meet across departments, and not rarely, it is here, that new ideas are hatched and cultivated. A high level of satisfaction with the canteen services, creates a more cohesive organisation, increased creativity and potentially new collaborations across departments and teams. It demonstrates surplus energy in a company when it serves its employees good food. This makes the organisation attractive to both a potential partner and potential employees, and it means that talented employees want to remain with you.
The good canteen, a well-stocked snack cupboard or free fruit during the work day is in other words one of the best areas to make an impact if you want success as a business. And it is not without reason that it has become a standard KPI (Key Performance Indicator) for most larger organisations. That is to say, an area where you measure, if you are doing a good enough job. Naturally, we will therefore consider the project: survey the canteen satisfaction.
Survey the canteen satisfaction
But how do you in fact know if you are doing a good enough job? A simple and efficient method is to survey the canteen satisfaction from day to day. Here, an ordinary satisfaction survey, for example on a scale from 1-5, can be used. But we can also use eNPS, which is short for Employee Net Promotor Score. Put simply, eNPS is a way of measuring how loyal your employees are towards their work place. You are probably familiar with the question: "On a scale from 1-5 how likely are you to recommend us to your friends or family?". The answers are then categorized into three groups:
Detractors. This groups will speak poorly of you or your company, and will be in the process of actively finding a new job (Usually the ones who answer smiley 1 to 3)
Passives. This group doesnt really harm og benefit you, but within the next few years they could be looking for new job opportunities. (they are the ones who answer smiley 4).
Promotors. The group that you want have as many of as possible, as they love working in your company and enjoy telling their peers, friends and family about it. (They answer smiley 5).
But why ask this specific question at all? Because the eNPS question asks for a little more than a normal satisfaction survey. It demands personal commitment when it asks you to recommend your workplace. Also, it has become a standard KPI, used by many across industries and sectors. eNPS is easy to implement, use or benchmark against. Thus, it has become a de facto standard within the surveying industry.
Know your canteen a little better
It is costly not knowing when your employees are going to look for another job. And remember that it's not just about attracting the best talents and partners. If you have a large group of detractors or passives amongst your employees, it will also affect the way others, including potential customers,
perceive your company
 and your offerings.
Many organisations are already using eNPS as a KPI and with good reason. Studies show a clear correlation between a positive eNPS and revenue growth. So how do you get started on project "Survey the canteen satisfaction"? tabsurvey offers to collect data, and combine it with other relevant data sources. You can even get started right now if you want to.
Maintain loyal employees in tough times
High satisfaction with the canteen, a well-functioning Facility Management utility is generally a contributing factor to maintaining and attracting qualified employees. However, when times are tough, the canteen offerings often seem to an easy place to cut costs. And sometimes it makes sense to trim the fat in order to successfully make it through a crisis. But when do you know that enough is enough for the employees? If your company is using eNPS then that will effectively give you a chance to monitor when your employees have reached their limit, and they are looking for new job opportunities. Knowing your eNPS and where it is headed gives you the possibility to act in god time. So, commence with project:" Survey the canteen satisfaction"!
If you are interested in learning more about facility management and survey, read on
here
.